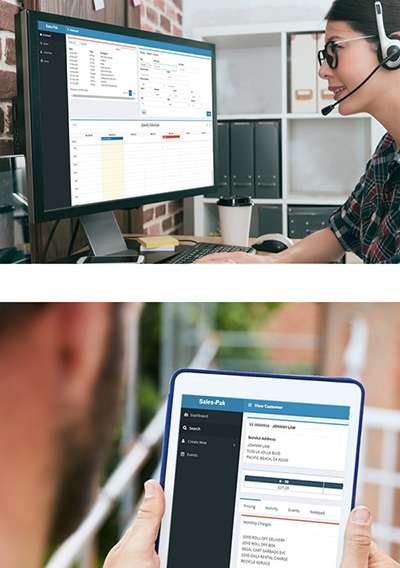 Sales-Pak has a new release in Q1 of 2018. Completely redesigned to work on the web, Sales-Pak allows uses and sales individuals the ability to create prospects, track events and activities, provide quotes, and eventually convert prospects into customers all in a paperless format. All contracts and historical information convert from prospect to customer, thus eliminating the need for 3rd party sales applications and manually re-typing data entry. Allow your salespeople the tools to be productive, manage, and control your data, get rid of paper contracts…all working seamlessly within Soft-Pak. Below is a brief list of primary functions with the new Sales-Pak module:
Quickly add a new prospect (from the office or on the road on a tablet)
Designed specifically for the waste industry
Access to sales information anywhere/anytime
Event tracking – improve sales performance
Contact manager – manage prospects and customer renewals
Quote generator
Send a quote or sales agreement electronically
Electronic signature capability via DocuSign
Sales reports for management to review
Sales-Pak significantly increases productivity while allowing management oversight and control of sales information and reporting. Anticipate revenue and service changes, create sales reports, and commission tracking all from the Soft-Pak database. This newly designed sales tool is a must for any hauling company with multiple sales representatives.