Waste Software Career Opportunites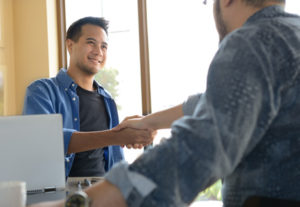 If you are looking for a cutting edge career in a growing industry, we want to hear from you. As the industry leader, we offer excitement, challenge, and a work environment that is second to none. Soft-Pak offers excellent salaries and flexible hours, plus medical, dental, and life insurance benefits.  We also offer great opportunities for career advancement in a growing company.
If you are a hard working, enthusiastic professional with waste industry experience, give us a call.  We are always interested in talking with qualified sales, application support and programming professionals.
Email your resume to employment@soft-pak.com, or send a fax to 619.283.6641.
We look forward to hearing from you!
Soft-Pak is the leading provider of software to the waste industry.  The Support Analyst will troubleshoot and support our software products including mobile computing, back office software solutions and hosted environments.  Analyst will work with our customers remotely by phone and email, occasionally making on-site visits.   The Software Support Analyst must be flexible, self-disciplined and able to work individually and on a team.
Responsibilities:
Provide customer software product support

Diagnose, troubleshoot and resolve business and technical issues

Document calls and their resolution in our tracking system

Analyze  software and training issues

Communicate problems and issues to development team

Provide after-hours emergency support on a rotating basis

Test programming enhancements and fixes

Knowledge and understanding of the waste industry business
Requirements:
Customer/software support experience

Excellent communication skills, both written and verbal

Understanding of application software and database principles

Experience with Crystal Reports or other reporting software

Accounting experience desired

Waste industry experience preferred
The above is intended to describe the general content of and requirements for the Software Support Analyst position. It is not to be construed as a sole statement of duties, responsibilities or requirements.
Send resume and earnings history to:
Soft-Pak, Inc.
8525 Gibbs Drive, Suite #300
San Diego, CA 92123
ATTN: Sandy Geerdes, Support Services Manager
Email: sgeerdes@soft-pak.com
Office: (619) 283-2338 ext. 509
Fax: (619) 283-7485
General Summary:
Demonstrate working knowledge of object oriented technologies, including Java, J2EE Java Script, HTML and SQL.
Ability to develop, debug, maintain and document applications.
Provide customer support as needed in a professional manner.
Experience with Tomcat, SeaGull, J Walk, Crystal Reports and PDF development a plus.
Additional Responsibilities:
Be able to work on project independently, seeking assistance or guidance when project definitions aren't fully developed.
Be able collaborate with the development and or support team.
Assist the Support Services Group with troubleshooting problems.
Follow all development standards. Recommend standards when no established standard exists.
Future Responsibilities:
Be able to recommend process enhancements.
Become familiar with all the software processes we sell and support.
Send resume and earnings history to: 
Soft-Pak, Inc.
3550 Camino del Rio North, Suite #208
San Diego, CA 92108
ATTN: Eddie Garratt — V.P. – Research and Development
Email: egarratt@soft-pak.com
Office: (619) 283-2338 ext. 502
Fax: (619) 283-7485
Soft-Pak has been in business for 20+ years and is recognized as the leading business critical software solutions for the waste industry. We are in search of an additional software trainer (based in San Diego) for our growing customer base.
Responsibilities:
Provide technical assistance and support for incoming queries and issues related to computer systems, software, and hardware.
Respond to requests for technical assistance in person, via phone, electronically.
Be responsible for supporting our mobile app running on Android tablets.
Assist in Data migrations from SQL/Excel/Access to our application.
Respond to email messages or phone calls for customers seeking help.
Monitor and maintain internal email/spam/virus software.
Ask questions to determine nature of problem.
Remotely walk customer through problem-solving process. Track and document issues for follow-up.
Install, modify, and repair computer hardware and software.
Redeploy computers.
Run diagnostic programs to resolve problems.
Resolve technical problems with Local Area Networks (LAN), Wide Area Networks (WAN), and other systems.
Assist customers in the installation of printers and other peripherals.
Be responsible for monitoring daily backups.
Recommend hardware and software improvements.
Self-starter, recognition of small problems and can execute without direction.
Be available after hours for assistance from time to time.
Assist with planning the annual user's group meeting (based in San Diego).
Job Requirements & Qualifications:
Associate's degree in information technology, computer science or equivalent w/1-2 year's experienc.
An energetic problem solver, that listens and communicates well with customers.
Experience with web based training methods.
Working knowledge of fundamental operations of relevant software, hardware and other equipment
Familiar with setting up and managing printers and other computer equipment
Windows 7, 8, 10, Windows Server, Active Directory, SQL Server, Microsoft Office
Experience with Windows Server and Exchange 2012 and newer
Experience with Android Tablets
Compensation:
Salary commensurate with experience
Bonus incentives
Medical / Dental plan
Outstanding benefits + work environment
Advancement within company available
Send resume and earnings history to:
Soft-Pak, Inc.
8525 Gibbs Drive, Suite #300
San Diego, CA 92123
ATTN: Chester Howe – VP of IT
Email: chowe@Soft-Pak.com
Office: (619) 283-2338 ext. 508