Sales-Pak
Maximizing sales activity through technology.
Complete, integrated sales solutions.
Sales-Pak® allows uses and salespeople the ability to create prospects, track events/reminders, and sales activities, provide quotes, and eventually convert prospects into customers all in a paperless format. All contracts and historical information convert from prospect to customer, thus eliminating the need for 3rd party sales applications and manually re-typing data. Provide your salespeople the tools to be productive, manage, and control your data, get rid of paper contracts…all working seamlessly within Soft-Pak®.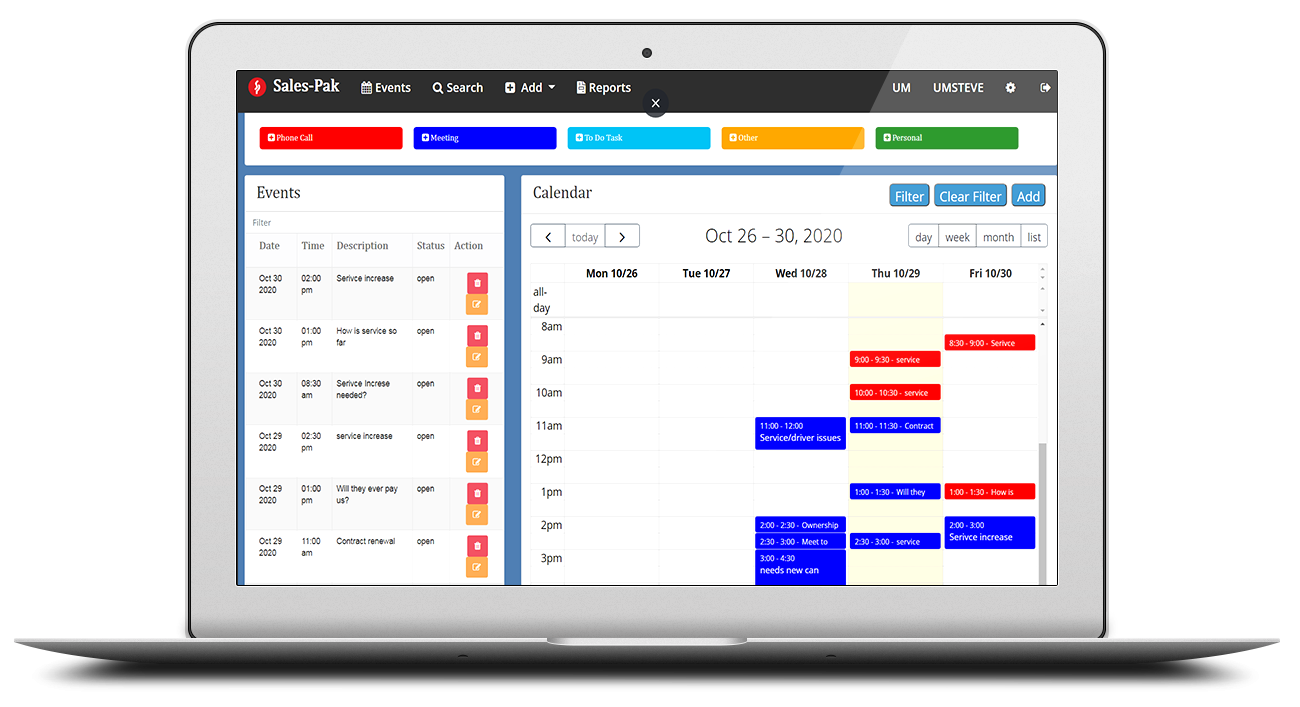 Sales-Pak Features
Quickly add a new prospect (from the office or on the road on a tablet)
Designed specifically for the waste industry
Access to sales information anywhere/anytime
Event tracking – improve sales performance
Contact manager – manage prospects and customer renewals
Quote generator
Send a quote or sales agreement electronically
Electronic signature capability via Sign Request
Sales reports for management to review
Take your sales to the next level
Sales-Pak significantly increases productivity while allowing management oversight and control of sales information and reporting. Anticipate revenue and service changes, create sales reports, and commission tracking all from the Soft-Pak database. This newly designed sales tool is a must for any hauling company with multiple sales representatives.
Worry-free performance with no hardware investment
The Soft-Pak solution can be either on your own in-house server or on our secure hosted cloud. Our cloud solution provides complete Soft-Pak functionality without hardware investment. Ideal for operations that want to eliminate hardware purchases, maintenance, and administrative expense associated with supporting in-house servers. A standard high-speed internet connection (DSL, cable, wireless or cellular) is all that's required; as the Soft-Pak application is platform and network independent. Leverage your existing equipment; as the Soft-Pak cloud solution works with most PCs and printers. The complete package; including customer support, software updates, and security all without having to manage more equipment.
Reliability and unbeatable support
Soft-Pak maintains 99.99% uptime with both a primary and secondary data center with real-time high availability replication software to ensure ongoing reliability. Both data centers are owned, managed, and supported by Soft-Pak; we do not outsource equipment, software, or support. Each data center maintains redundant power, multiple forms of connectivity, storage, and replacement equipment on site. Soft-Pak continues to test our DR "disaster recovery" failover process in an effort to ensure constant and reliable access no matter the emergency. Fast, secure, and reliable; with thousands of users around the world supporting their billing, routing, scale, and fleet operations, the Soft-Pak cloud continues to deliver value.