Routing Solutions
Cutting edge technology that improves waste hauler bottom lines.
The best garbage truck routing software for waste haulers
When it comes to route productivity – it all starts with the Route. And with Soft-Pak®, our Map-Pak® solution combined with our Mobile-Pak® in-cab tablet ensures your drivers service your customers in the most efficient, time-effective manner. We make it easy to communicate with your drivers regarding new customer additions, coordinating with other drivers to help with congested routes – as well as navigate through traffic disruptions. Soft-Pak route solutions deliver higher productivity to any fleet.
Map-Pak
Map-Pak works on the Google Map platform, the most powerful and cost-effective mapping application on the market. Easily view and display all routes and their stops from the Soft-Pak dispatching center. Click on any stop to verify account information and services performed. Select any criteria to view various route types, (same day routes, weekly routes, or different route types on different days). Visually identify overlapping stops and make the necessary changes to move stops and improve efficiencies. View vehicle GPS location in real-time to make dispatch decisions on the fly.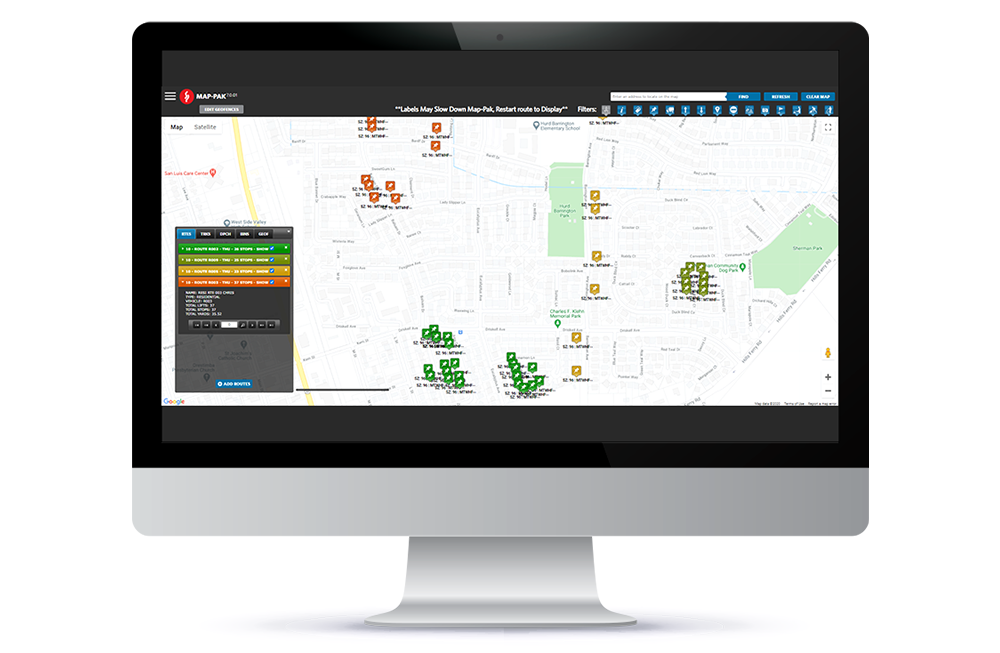 Garbage Truck Route Optimization
Soft-Pak offers the ability to optimize routes by leveraging the waste industry's most powerful re-route tools. Whether you need to re-sequence a larger residential route or your looking to re-route your new commercial acquisition, Soft-Pak has the product embedded in the dispatching center to help with this process.