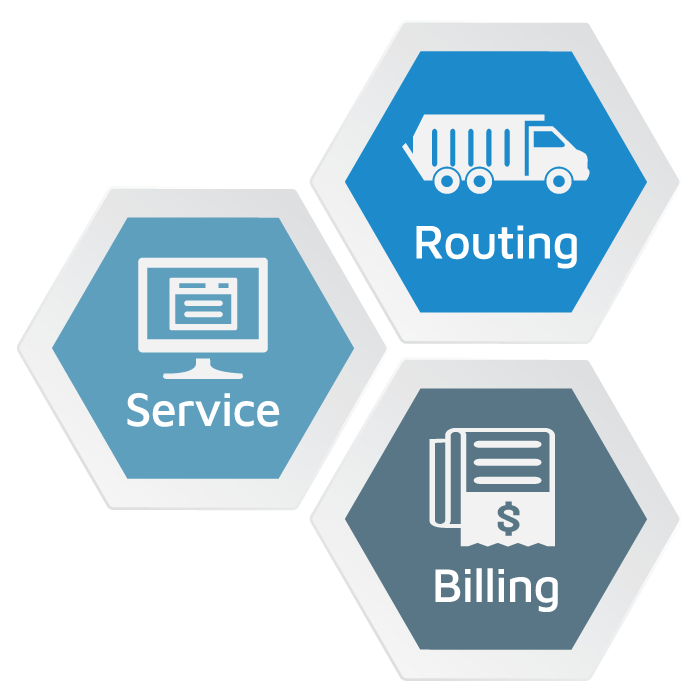 Soft-Pak is a complete operational software solution that delivers the power and flexibility to succeed in today's competitive waste hauling marketplace. Whether you are an industry-top 20, a municipal operation, or a mid-size hauler with a single facility, Soft-Pak can effectively manage your operations. With Soft-Pak, all customer service, billing, routing, and operational information is available for users in a controlled and easy to access system. Operating on your own server or on the cloud, you choose what is best for your operation. Below is a brief list of the key capabilities that showcase the Soft-Pak system:
A comprehensive customer service package
On-line dispatching with route management
Billing, accounts receivable & collections all integrated
Productivity and profitability reporting per route.
Inventory tracking, fleet maintenance, LEED reporting
Scale and landfill ticketing
In-cab computing
Online payment process for client websites
Commodity tracking and hazardous waste handling
Sales management of prospect quotes and customer activity
Extensive management reporting… on all your business segments
Many software packages offer service, billing or routing functions specific to a single line of business; Soft-Pak brings them all together in one solution, allowing for complete operational control along multiple lines of business. You no longer require multiple databases/software applications for hauling, sales, billing, and scale activities; Soft-Pak does it all. Add value to your system with modules that extend of the core application…..
Sales-Pak™ Module – sales tracking, quotations, and prospect reporting
Vehicle Management – manage all aspects of your fleet
Scale-Pak™ – manage your transfer station, MRF, or landfill. Increase efficiencies with unattended scales for inter-company 'speed pass'
Web-Pak™ – provide account information and secure credit card transaction online
E-Mail Billing – automatically send invoices &/or statements via e-mail.
Mobile-Pak™ – handheld electronic route sheets for driver efficiencies
Map-Pak™ – view and optimize routes
Customized outsourced billing and mailing of invoices
The Soft-Pak solution is scalable, flexible, and easy to use. With an open architecture, unmatched features, and a level of simplicity management and staff will appreciate every day. Looking for more information, get a demo or request additional information from the helpful Soft-Pak staff.
The Soft-Pak product has been the industry leader for 30+ years supporting both small and larger hauling operations. Our software development team is continually adding features and benefits to the system based on feedback from our user base.
The annual user conference in San Diego provides a forum for all customers to come together and share ideas. Discussion topics range from new regulatory requirements, how different business segments are run, and what features should be added to the Soft-Pak system. Truly unique to the industry, Soft-Pak incorporates these discussions with our development team; as the "wish list" has become a popular discussion point for all users.
Hauler and scale operators of all sizes have chosen the Soft-Pak system due to a number of factors. Listed below is a sample of why you might consider working with Soft-Pak and implementing the Soft-Pak solution.
Reliability – Soft-Pak has been developed over 30 years with hundreds of haulers currently using the application. Soft-Pak works with all current Microsoft operating systems and is the only commercially viable application with 99.999% uptime.
Performance – Soft-Pakis developed for enterprise infrastructures; the application is efficient, flexible, and secure.
Flexibility – run Soft-Pak on your server or choose to be hardware independent and run the application via the cloud.
Long Term ROI – fewer resources to maintain, low power requirements, 99.999% uptime, and no need for 'clustering servers'; the Soft-Pak database provide a long term return on investment.
Reporting – with over 100 standard reports, and the capability to utilize any reporting tool…. the possibilities are endless.
Customer Support – the team supporting your installation, configuration, and ongoing assistance all come from the waste industry. The current support staff has more than 100 years of industry and Soft-Pak experience.
Industry-Specific – Soft-Pak is designed for haulers and scale operators. If you ask us a question, we know the answer… oftentimes having solved those issues for other clients before. We are here to help.
Customizable Software – not all operations run their business the same. Our development team offers the ability to customize your Soft-Pak system to fit your needs.
Additional Modules – the additional modules allow any operation to extend the power of Soft-Pak with solutions that have been developed in coordination with our users. A win-win; with proven best of breed technologies all integrated into one solution.
Contact the Soft-Pak sales team at 888-763-8725 to answer any questions or set up a free web or on-site product demonstration. Our knowledgeable staff is available to help your business in the most efficient manner.