ELD Driver Tracking
The easiest way to be ESD compliant.
Simple ELD solutions built-in to Soft-Pak®
The Electronic Logging Device mandates (ELD) are here, is your fleet covered? Whether you have implemented a solution or not, Soft-Pak has integrated options that are easy to deploy, affordable, and leverages the Soft-Pak application.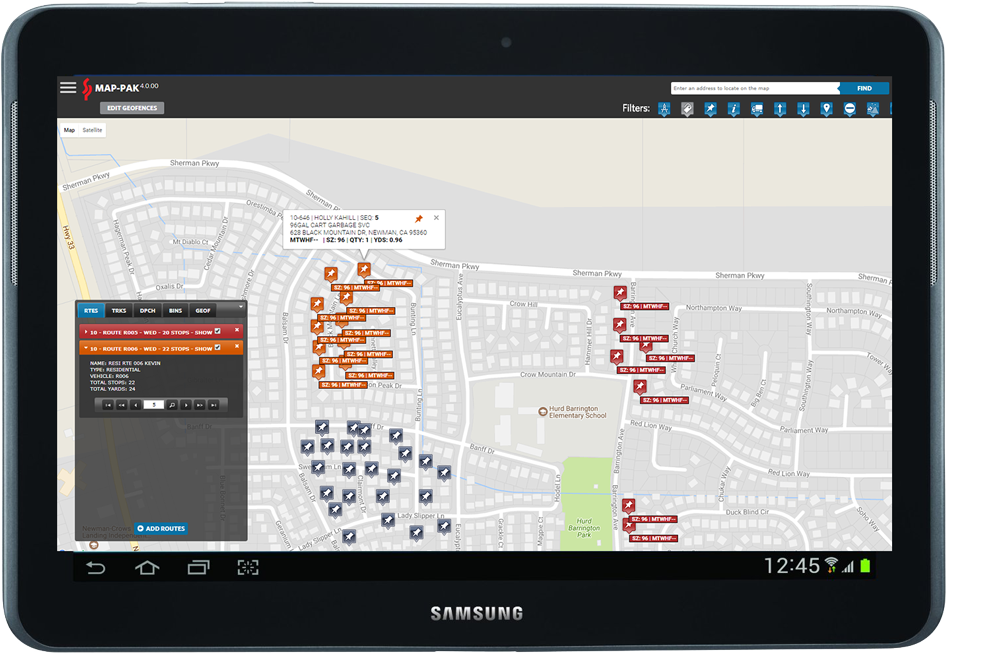 Powerful tools, all in one application
There are numerous GPS/ELD solutions on the market; but why have your data in two (2) different locations using two different data plans per vehicle? Basic GPS tracking or full vehicle and driver telematics are available. Plus the capability to leverage Mobile-Pak™ for Auto Completes and  RFID reading in either roll-off, commercial or residential applications.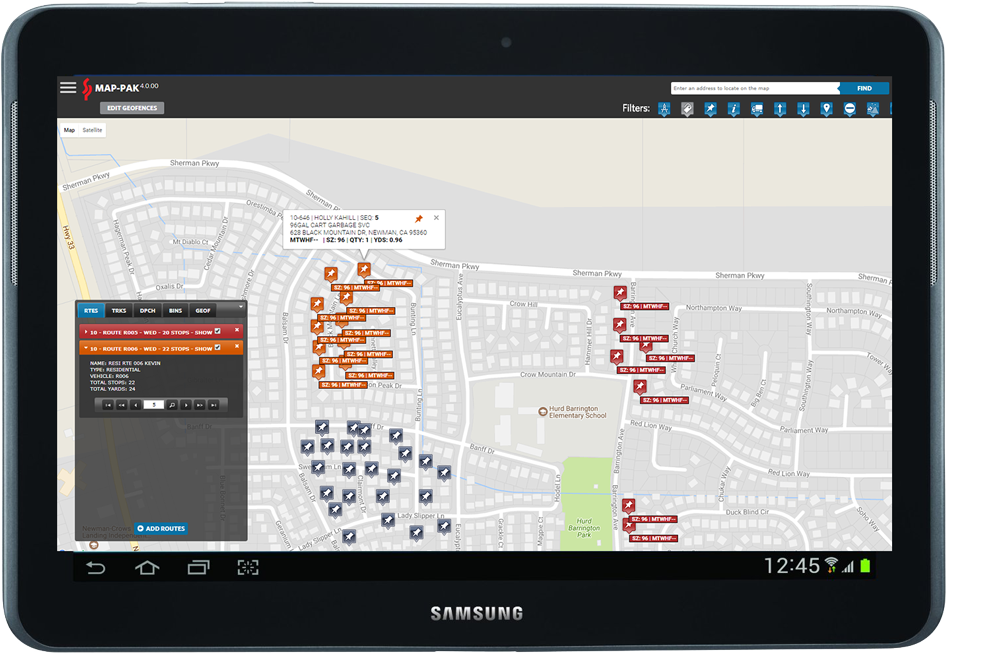 The best ELD value
The BLE solution is the most affordable way to comply with FMCSA mandates for ELD Hours of Service tracking. Simply add this unit to the cab of your truck, drivers connect via Bluetooth with an Android device (phone, tablet, or Mobile-Pak™ device) to track Hours of Service.
Additional features can be added:
GPS Tracking – Shows up on Map-Pak®
Pre Post Vehicle Inspection – DVIR (Driver Vehicle Inspection Report)
IFTA Reporting – State line tracking
Driver Behavior and Reporting
Asset Tracking – Track bins and plot locations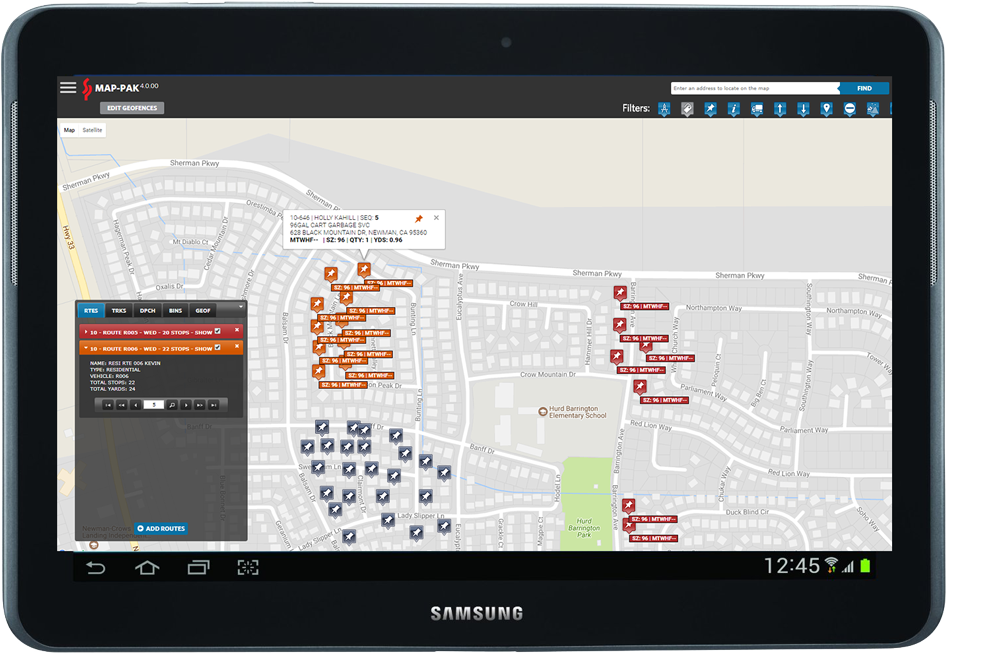 Worry-free performance with no hardware investment
Solutions come with the ability to display GPS location/ information via Map-Pak. Consolidate your mapping and GPS vehicle tracking by leverage your existing Soft-Pak mapping application. One map shows all vehicles, driver activities, stops and routes, and route planning. An affordable solution that is easy to deploy, provides powerful reporting options, and leverages existing mapping tools.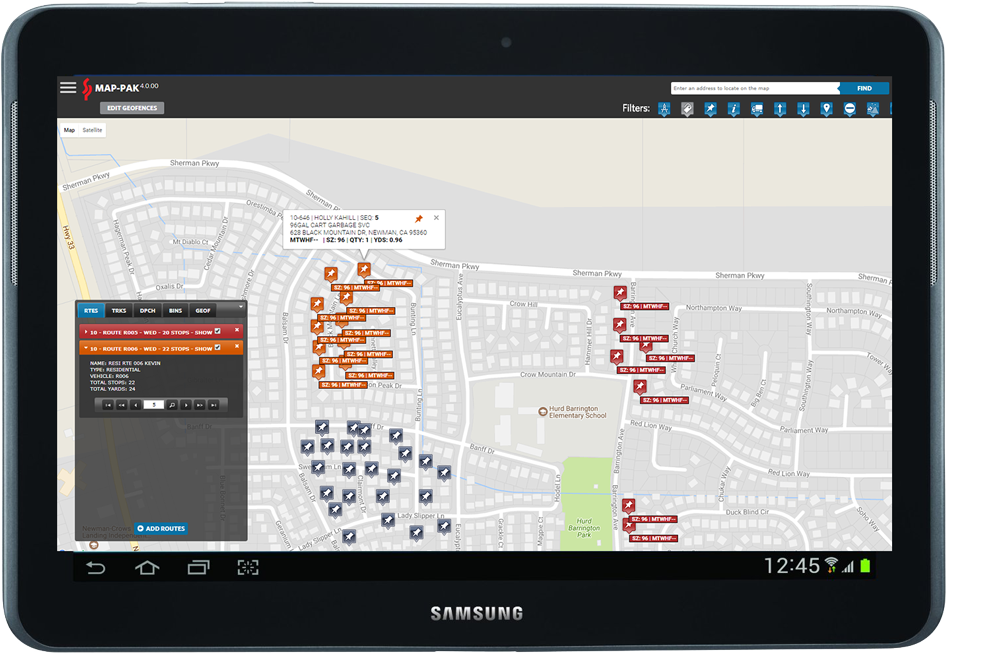 RFID Reading & Asset Tracking
Do you want to electronically track where each bin is located? This is possible with the RFID Asset Tracking feature within Mobile-Pak. Simply purchase an RF Tag and mount to your container, and each time you pick up or deliver the container…. Mobile-Pak will record the exact date, time, serial number, and Geo Code for historical purposes. Find your lost or un-serviced containers easily via Map-Pak.
Keep better track of inventory
Easily find historical Roll off Bins
Verification of delivery times and service
Tracking is all done automatically, without driver intervention
RFID Reading of residential bins is becoming mandatory for some city contracts. Soft-Pak has a solution that extends Mobile-Pak and provides an RFID Reader for any type of residential cart. Simply install the RFID read at or near the automated lifter and Mobile-Pak will start identifying each cart.
Be ahead of the game, by leveraging Mobile-Pak™ and RFID Reading for residential carts.