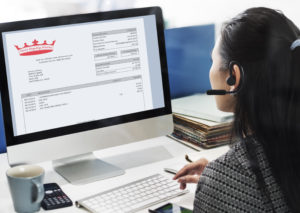 E-mailing an invoice or statement is common in today's world, its efficient and create less waste. Your customer can choose this delivery option fright from your website. Its automatic at billing time with all invoices and statements looking the exact same as if they are printed. Soft-Pak now offer the opportunity to add inserts electronically to notify your clients of services changes or holidays schedules.
Reasons for implementing e-mail billing:
Less of an impact on the environment – GO GREEN
Eliminate costs associated with traditional print/mail
More efficient – customers receive their bills instantly
Increased security reduce identity theft with print/mail
Eliminating the cost of re-printing, re-mail, or faxing invoices
Collect on receivables faster
With Web-Pak, clients view historical invoices statements and print without calling customer service
16% of customers choose e-mail billing within the first 6 months (Forester Research)
If you work with an outsource company, the auto generated file will continue as normal with the e-mail recipients omitted from the print file. Save money while providing a better service, how can you beat that? PDF can be set up for automatic generation at billing time or can be created on the fly. Soft-Pak does not charge a per PDF fee and our e billing PDF's images are not stored locally (taking unwanted server space for archival). All PDF's (current and historic) are generated as requested.
Custom or unique invoices – no problem
Standard invoices/statements can be provided  – no problem
Multiple page invoice/statements – no problem
Inserts for notifying your clients – no problem