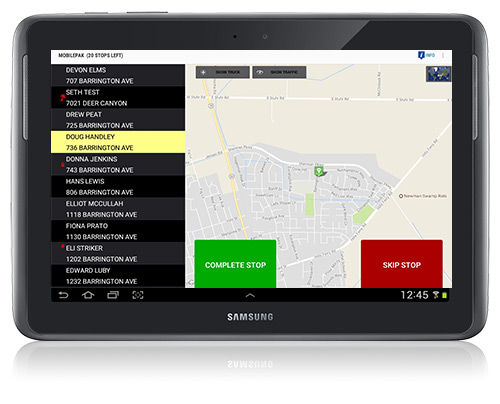 With Mobile-Pak, drivers can easily view and scroll through their route list, update stop activity, and receive dispatched work in real-time. Route information is easily entered via a drop-down selection that instantly transmits back to Soft-Pak™ or e-Pak™. Driver activities and their GPS locations are sent to customer service or dispatching and displayed via Google Maps. All information flows back to Soft-Pak or e-Pak in real-time with back-office functions like route productivity, work orders, billing, and route follow up completed instantly.
Mobile-Pak can be mounted in the cab for one-touch use or carried by the driver for mobility purposes. Drivers can easily take photos, update notes, and instantly verify additional services with two "clicks". Truck locations are displayed via GPS (see Map-Pak™); thus providing customer service and dispatching with an easy view of the entire fleet.
Mobile-Pak comes with:
Real-time GPS tracking on Google Maps
Scheduled and on-call work sent instantly to drivers
Mapping of local streets and highways
Picture capabilities for overloaded/blocked containers
All driver activity is recorded
Enter weights from onboard scales
Recorded service time for each stop
Geocode each stop for route management
(Optional) Mount for in-cab usage
(Optional) Rugged case for mobile durability
Enter scale information from disposal /transfer facility
Capture signatures for customer verification
Drivers can easily charge for and verify additional services
GPS locations available for playback purposes w/ Map-Pak
All from a cost-effective and rugged handheld device that runs on the Verizon or ATT Network. Easily record an entire day's activity for playback purposes to ensure drive efficiencies. Improve the performance of your fleet with the most cost-effective mobile application in the marketplace.