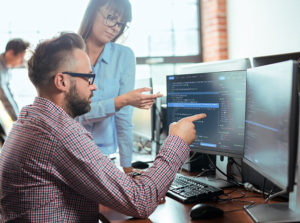 Our skilled programmers are full-time Soft-Pak™ employees who share over 90 years of programming experience and 40 years of Soft-Pak experience. We do not outsource any of our standard or custom programming services. This helps to ensure continuous product quality and seamless software updates and upgrades.
Custom Programming
Our powerful Soft-Pak solution is designed to meet the business-critical software requirements of waste companies. However, we also realize that some of our customers have unique requirements that are specific to their businesses. Why outsource your custom programming? Our experienced programming team will work closely with your management, users, and IT staff to identify your specific needs, and customize our standard products to meet your requirements.
Data Conversions
A key element to a seamless, software migration is converting your old database to your new software system. The conversion process must be timely and it must be reliable. Losing valuable customer data or having to manually key in hundreds – or thousands – of customer records is simply not an option.