TrashBolt for Soft-Pak®
Automated Online Sign-Up for New Customers.
Signing up new customers has never been easier.
Soft-Pak works seamlessly with Trashbolt to streamline the connection between haulers and residents/customers who would like to sign up for collection services online. Customer data is automatically sent to Soft-Pak for easy and efficient billing and operations functionality.
The combination of the Soft-Pak back-office – combined with Trashbolt's easy-to-use interface, makes customer outreach simple, easy to manage – and comprehensive for waste haulers looking to grow the relationships with end-users. Trashbolt brings sophisticated map-based "buy now" technology to your website where online buyers can view a quote, sign, and pay for services. This information is then seamlessly migrated to the powerful Soft-Pak in-cab tablet to facilitate collection services in real-time.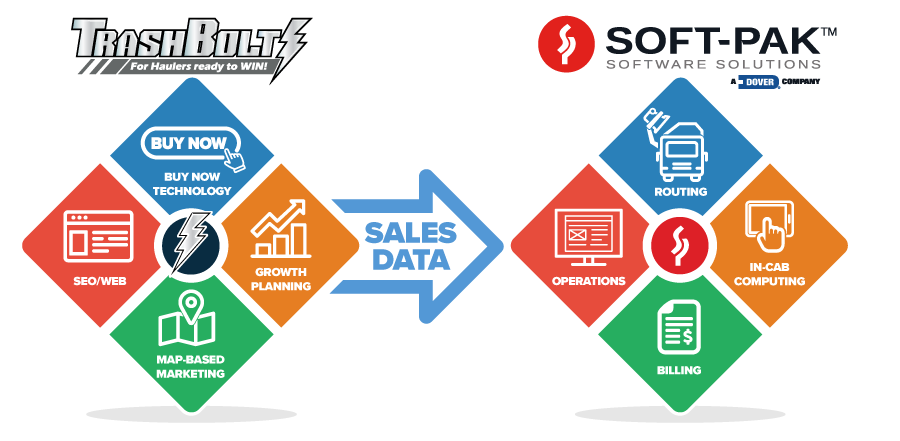 Take Your Sales To The Next Level
With TrashBolt installed on your website, online sales will grow your business while streamlining the process of adding new customers to your system. Using Soft-Pak and TrashBolt is an efficient solution to lower your cost per new customer sign-up.
Online Customer Sign-Up on YOUR website
Soft-Pak Integration: Push customer, work order, and transaction data into Soft-Pak. (For Version E and above)
Customized Software that matches the address entered with the exact services you provide at that location.
Lower Cost per Sale
Frees Up CSR Time for follow-up calls on leads and customer service inquiries.
Lead Collection -Send quotes to leads for signature and payment
Access to a custom CSR Portal for improved sales efficiency
Provides the convenience that today's consumer wants.
TrashBolt is customized to match your exact service areas and types.
Use TrashBolt to allow for easy sign-up of all service types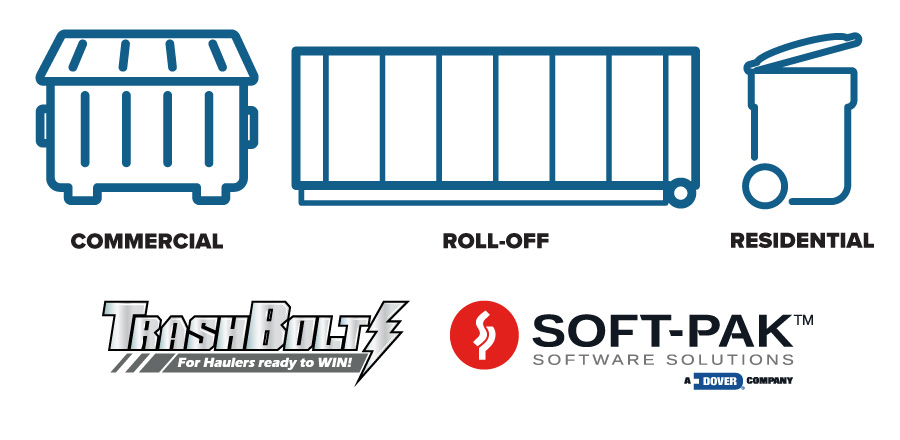 How It Works
TrashBolt is map-based software made specifically for waste haulers. We locate the customer's address and guide them through the sign-up process. Our software captures the lead information so even if they don't sign-up, your team can give them a call and close the sale.
Trashbolt asks new customers all the right questions, so they can sign-up and pay for new service:
What size cart/container do you need?
Do you need an extra cart?
How much is the cart/container delivery fee?
What will my monthly recurring charge be?
How much do I owe today?
Can I get e-bills and autopay?
When is my pickup day?
This is just a sample of the types of options we include based on your needs. We customize our software to fit your needs!